Apology Letter To Boss
Writing an apology letter to a boss or employer is not uncommon. We spend most of our time at work and being human, we will inevitably make a mistake of some kind and need to say sorry for it.
Need help? Read on & use our sample letter of apology for a boss / manager to write your own professional letter.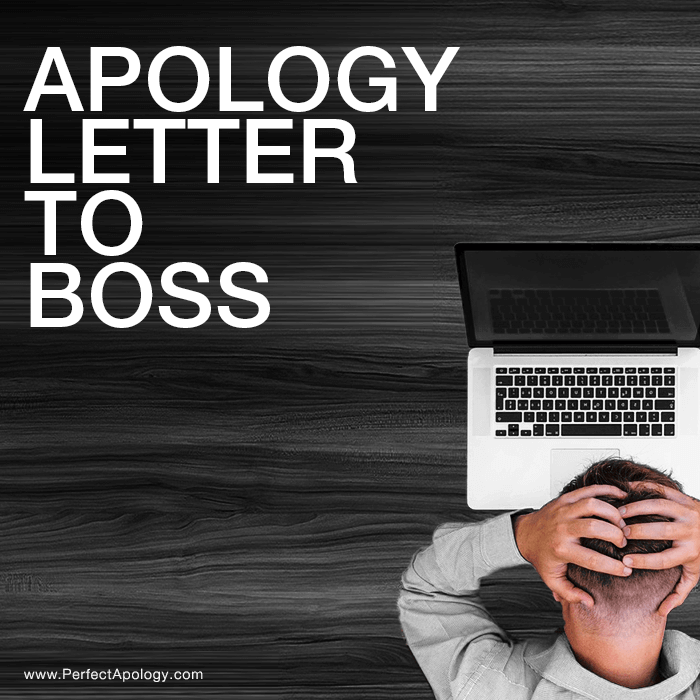 Whether the infraction was beyond our control or not, apologizing to your superior will go a long way in making things right again.
Obviously, some infractions are more serious than others, especially when it comes to business or losing your job.
So, taking the time to craft and properly format a sincere apology letter to your boss is an important first step.
Common Reasons For Saying Sorry To Your Boss
We've found that the most common reasons for these types of mea culpas range from making a simple mistake, absence from work, unprofessional conduct, unprofessional behavior, poor performance, misconduct, insubordination, being late or not showing up at all.
Template Letter For Apologizing to Your Superior
The table below includes a sample apology along with notes so that you can tailor your letter to your particular situation.
Sample Apology Letter to Boss
Notes
Example: Sample Apology Letter to Boss

Salutation

If you're on a first name basis with your boss then it's appropriate to use their first name. If not address them as Mr. or Ms.

Dear Mr./Ms. _______________,

Apologize with a detailed account of the situation with specifics.

Start with a general term for the infraction along with time and place specifics e.g.mistake, unprofessional behavior, insubordination, tardiness etc..

Please accept my sincere apology for not showing up for the presentation with Acme on Friday afternoon. I know how important the meeting was for the company and it was unprofessional of me to be absent and not advise anyone. I am truly sorry.

Acknowledge the hurt, damage done and implications on the business.

I know I let you and the company down and can appreciate your disappointment in me.

I can only imagine how awkward the meeting was and how this all must have looked to our customers. I fully understand the inconvenience I caused you and the resulting delay in closing the deal as a result of my actions.

Take full responsibility and make it very clear that you were at fault.

I take full responsibility for my absence and understand that my behavior did not meet the standards you and this company expect (or deserve) from their employees.

It was wrong of me not to show up and I was at fault again for not advising anyone that I would be absent prior to the meeting.

Recognize your role in the situation. Provide a detailed account of what happened without making excuses.

A personal situation came up that took me across town and that I needed to address however that is my issue and not the company's or yours.

Promise that it won't happen again and tell your boss why it's important to you that it doesn't.

I can promise you that this will never happen again and that I've taken all the necessary measures to ensure that it doesn't. It's very important to me that you continue to trust me implicitly and know that I always honor my commitments.

Include a statement of regret.

I let myself down, and more importantly I let you, my boss, and the company down. I regret the whole incident and I am deeply embarrassed to have put us all in this situation.

Provide some way of easing the pain caused.

I've sent a letter of apology to Acme, spoken with Bob and John personally, and have rescheduled the presentation for tomorrow morning.

End with a willingness to do whatever is necessary to correct the situation.

This apology letter to a boss shows how the employee understands that what he's written may not be enough and is willing to do anything to get back in his/her boss's good graces.

If there is anything else that I can do to fix things and regain your trust, please let me know.

Close

Sincerely,
Variations: Workplace Apologies to A Boss / Manager / Superior
These short additions can be used in conjunction with the letter above to further help tailor your letter. They cover some of the most common issues at work for which one needs to apologize.
Apology For a Mistake at Work
... I would never intentionally hurt the company or those around me who have shown nothing but support and encouragement since I first began working here. I am deeply saddened, and even devastated, by the consequences of my actions. I regret putting the company (or boss) in this awkward situation.

Please accept my sincere apology. I was distracted and my lack of attention to detail caused this situation.

I make no excuse, take full responsibility and promise you that this will never happen again. I only ask that you consider my overall performance and view this as the aberration I believe it to be...
Apology Letter to Boss for Poor Performance
... I could never have imagined myself demonstrating such a clear lack of respect towards you (or the company, department, group etc...) when I have been shown nothing but support and encouragement during my time here.

Unfortunately, that is exactly where I find myself today—in a situation that I created and for which I am solely responsible.

I want to personally apologize to you for my poor performance recently. I have been late for work and have generally not performed to my best abilities recently. For this I am deeply sorry and appreciate the patience you have shown towards me.

I will not make any excuses. I promise you that this will never happen again, that I've taken the necessary steps to ensure that it doesn't, and finally that I will only do my best work from this point on...
Apology Letter For Absence, Not Coming to Work
... I am disappointed in myself for being absent from work on __________ and not advising you beforehand. It was disrespectful and unprofessional.

I know that my absence caused all sorts of issues that were only exacerbated by my failing to advise you. I have let you down and I have let the company down, and for that I am truly sorry.

I will not make any excuses. I was wrong not to call ahead.

I promise you that next time I will advise you as soon as possible and help you find someone to cover my duties for the day. I feel very grateful to work in such a warm, supportive environment and can assure you that the lack of judgment I've demonstrated here will never happen again...
By including a breakdown with notes in our main apology letter to a boss, you can see how easily it can modified to any situation.
Use the 'Notes' to guide you while writing your own letter and replace the specifics with your own situation, or some of the variations of workplace apologies that we highlight.
Key Takeaway For An Apology Letter To A Boss
Make sure you include each point outlined in our sample letter in the 'Notes' column.
The order of the statements / points made is not important to your success, however they all need to be included in your apology.
What is important is that your boss understands that you sincerely regret what happened, took responsibility and apologized, and finally that you are determined that it will not happen again.
Learn the basics of how to write an apology letter or how to craft the perfect apology email.