Good Apology Gifts for Him, Her, & Everyone
Apology gifts are like icing on a cake. They absolutely aren't necessary for an apology to be effective but they do add an extra touch that shows how much you care.
The fact that they aren't necessary or expected AND that you offered one anyway, shows the recipient that you put extra effort into trying to make things right again. Just make sure when giving a gift that it is given WITH an apology and is not THE apology itself.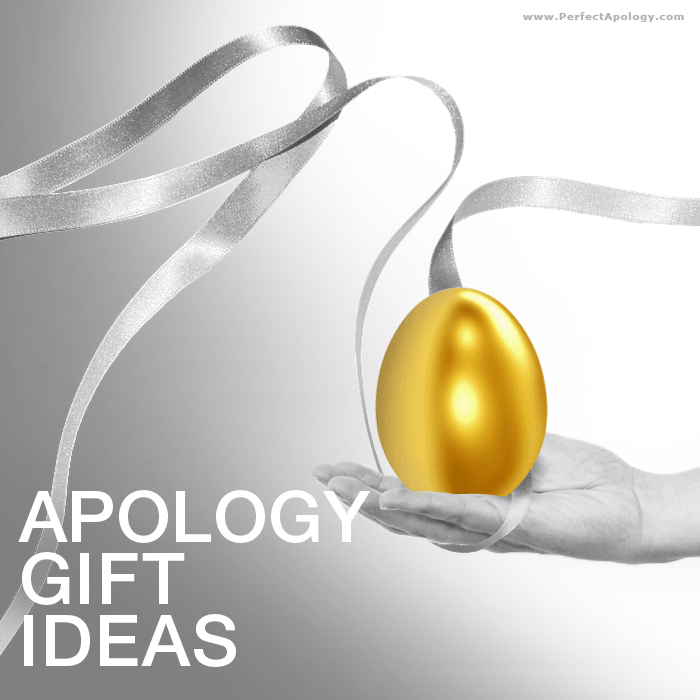 With that in mind, we asked our team of experts to hunt down the best apology gifts in the world.
Inspired by their research along with ideas from our readers, we've come across some amazing gift ideas for saying sorry that really show the recipient that you went out of your way to find something special.
And now, we've carefully categorized and curated them into the apology gift guide below.

Gifts For Her
Looking for the best apology gift ideas for your girlfriend, wife, or just a girl you know?

Our 'Gifts For Her' collection was created to help you find something extra special.

Gifts & Friends
Help make things right again with your BFF by adding any of these gift ideas to your apology.

Our curated list of Gifts for friends & best friends is all about finding the perfect present.

Gifts For Him
Perfect apology gifts for him. Your boyfriend or husband will love that you went the extra mile.

Our 'Gifts For Him' collection is full of creative ideas to get you back on track.
Gift Giving is an Art Especially When Saying Sorry
Gift giving is an art and a fun and meaningful exchange when done with thought. Is there anything better than finding that perfect sorry gift?
Lifting someone up and showing how much you care with your thoughtfulness is especially important when someone's been hurt. It can alter their mood and yours—while improving the relationship.
Gifts accompanying an apology can right wrongs, mistakes, judgment calls. Most importantly, they're a reminder of how much you care.
The subject of gifting has long fascinated sociologists. It's a way in to examine other important human characteristics: our impressions of others, what we see as valuable, our judgment.
Since apology gifts are designed to help comfort those we've hurt and reflect our remorse and regret, they're a reflection of our empathy.
Boston psychology professor Daniel Farrelly puts it like this:
Humans are an incredibly social species and one of the things that sets us apart is forming and maintaining relationships with others. Gift giving...is a great opportunity to reinforce those relationships.
Tips For Choosing The Best Apology Gifts
Whatever the occasion, thoughtfulness is the number one thing to keep in mind. Here are some tips we find helpful:
★ Think like the recipient. This is not about what you want, rather what they want or need. You're trying to make amends, so your apology gift needs to reflect both that you understand the hurt you caused and that the gift you've selected is based on them and their perspective.
★ Handmade apology gifts have a special quality all to themselves. It's why our apology love coupons are so successful.
A homemade jar of their favorite preserves to let them know how sweet they are, or a broken heart made out of playdough (DIY playdough recipe here) to show them how you're feeling over what was said or done, will also always be appreciated and well-received.
The effort put in to creating handmade gifts becomes a part of the gift itself—and showing effort in trying to mend the relationship is key to a successful apology gift.
★ Memorable gifts are the key to success. Gift an experience over a tangible item when possible. A gift is only a gift, while an experience becomes a memorable gift.
Gifts like concert/event tickets or a romantic dinner at your town's best restaurant are naturally an experience but that doesn't mean that you can't turn a regular gift in to an experience, it just requires a little more thought.
Consider the most classic apology gift of flowers, simply offering a bouquet is a sweet gesture but not one that is necessarily memorable.
On the other hand, filling a room with dozens of their favorite flowers is an experience. So is leaving a single long-stemmed rose on their desk for them to find when they get to work the morning after a fight. By simply leaving that single rose on their desk, you've turned a sweet gesture into an experience, and made it memorable.
★ Keep your gift-giving clean and on point. If you've found the perfect gift, don't add on a smaller gift. The message is received from your initial gift idea. Flowers are enough without adding on a bottle of champagne. Or vice versa.
Always remember what is behind the gift of giving, especially when it comes to apologizing. Farelly's research reminds us,
Don't forget why you are giving gifts. Most people just want you to think about them.
The first part of his quote is the most important thing to keep in mind with apology gifts. Never forget why you're giving the gift, and we would add, or who you're giving it to.
As with any apology, it's important to think about the relationship and situation when deciding on the perfect apology gift.
The art of gift-giving comes with fewer rules than rewards. Be generous. It can save your relationship.