Apology Letter To Patient
Writing an apology letter to a patient is quite common. Healthcare professionals are human and like the rest of us, spend most of their time at work, so it's only inevitably that mistakes of some kind will be made from time to time, and that the need to say sorry for them will arise.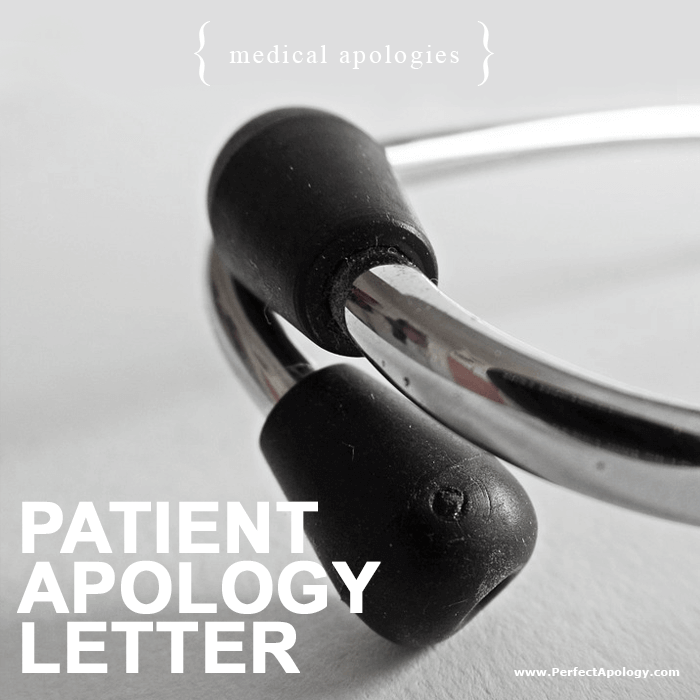 Whether the infraction was beyond your control or clearly your fault, apologizing to a patient shows that mistakes are made everywhere and that the healthcare industry is no exception.
Obviously, some infractions are more serious than others, especially when it comes to healthcare where certain errors can have serious consequences or even result in a fatality. So for any medical mistakes, getting legal advice prior to writing a letter or apologizing is imperitave and necessary, even though many States now support I'm Sorry Legislation which we discuss in our article on Medical Apologies.
Having said that, the guidance we provide below in our sample of a patient apology letter is for more common situations at a practice where mea culpas are warranted and make good business sense.
Use it as a framework for crafting your own letter in cases of a clerical mistake, a long wait, poor service, staff acting unprofessionally, and similar situations where a sincere and proper apology is an important step towards making things right.
The table below provides a sample apology directed at a patient, for such a situation, along with a series of notes to help you tailor your letter appropriately.
Apology Letter To A Patient
Notes
Example: Apology Letter To A Patient

Salutation
If as a doctor you're on a first name basis with your patient it can be appropriate to use their first name but keep in mind that it can signal a level of lesser importance (or less sincerity). Depending on the relationship and seriousness of the infraction it may be better to address them as Mr./Ms. This would always be true for all support staff, in all cases.

Dear Mr./Mrs./Ms/_______________,

Apologize with a detailed account of the situation and specifics.

Start with a general term for the infraction along with time and place specifics e.g. mistake, poor service, unprofessional staff, long wait etc..

Please accept our sincere apology for the long wait you endured during your last visit to our offices.

We understand you arrived 15 minutes early for your 9:00 AM appointment and waited three hours before we were able to see you. We are truly sorry. It is unacceptable for us to have you wait so long.

Acknowledge the hurt, the implications of the events that took place and damage done.

We know we let you down and that your time is valuable.

We can only imagine how our running behind schedule was disruptive to your day, and perhaps even your week, and fully appreciate the inconvenience this must have caused you.

Take full responsibility* and make it very clear that you were at fault.

* Never take responsibility for any medical error prior to speaking with a lawyer.

Our offices take full responsibility for the excessive delay in seeing you and completely understand that we did not meet the standards you and we, as a professional practice, expect.

In dealing with patients it is sometimes hard to gauge the amount of time required for appointments and as a result we can, from time to time, run a few minutes late.

However, we consider a one hour wait for our patients as completely unacceptable, and a three hour wait as intolerable.

Recognize your role in the situation with a detailed account of what happened without making excuses.

A series of unexpected circumstances arose on that morning which triggered a series of events that should have been handled much better. It was the accumulation of these events, some of which were mishandled along with mistakes made on our part, that ended with us being three hours behind that day.

Promise that it won't happen again and why it's important that it doesn't.

We promise you that this will never happen again and have taken the necessary measures to ensure that it doesn't. We have reviewed all of our internal procedures to guarantee that even in the unlikely situation where similar circumstances arise, that long waits for our patients will simply not happen.

We take pride in our professionalism and it's very important for us that you continue to trust us implicitly not only as health practitioners but also as working professionals who have the utmost respect for our patients and their time.

Include a statement of regret.

We let ourselves down on that morning, and even more importantly, we let you down and deeply regret the whole incident.

Provide some way of easing the pain caused.

Please let us know exactly when you would like to schedule your follow-up appointment and we will make sure to accomodate you. We also pledge to be on time for that appointment and all others in the future.

End with a willingness to do whatever is necessary to correct the situation.

If there is anything else that we can do for you to regain your faith in us, please let us know.

Close

Sincerely,
By including a breakdown of each element (through our notes) that should be included in an effective patient apology, it makes it much easier for you to modify it as appropriate.
Use the 'Notes' as a guide, while writing your own letter and replace the specifics with your own situation.
Key Takeaways For An Apology Letter To A Patient
The order of ingredients and statements is not important so write your letter in the manner that feels most comfortable for you. What is important however is that you include all of the ingredients (as appropriate) and that your patient understands that your practice sincerely regrets what happened, took responsibility, apologized, and finally promised that it won't happen again.
Consider your apology letter format and how it can play a role in how effective your letter can be.
And again, for any medical errors and mistakes always consult an attorney before admitting any wrongdoing or taking responsibility, and learn about the apology laws within the medical field and "I'm Sorry" legislation that may be available to you.