Case Study: Example of Good Customer Service
This case study is an example of good customer service during a crisis. The apology letter and follow up, are a prime example of how one can strengthen customer loyalty and turn a negative situation into positive one.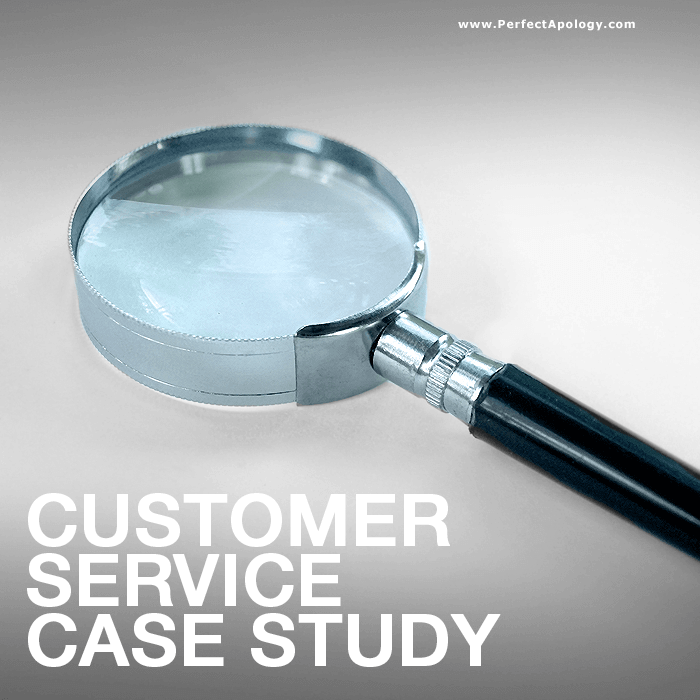 The perfect apology and excellent customer service that followed the incident was directed by then CEO Lanham Napier prior to his retirement from Rackspace in 2014.
Napier sent a personalized email from his Texas office to every customer after a series of coincidences and poor timing caused their hosting services to go down.
In Napier's words,
Monday evening a truck struck and disabled a transformer providing utility power to the Dallas/Fort Worth data center. The truck, however, was only the catalyst for a string of events.
The truck basically caused a domino effect which no company could have prepared for. Regardless of that fact, the company handled the situation brilliantly with a sincere apology and followed up with exemplary customer service.
The email below and incident report was kindly forwarded to us by an incredibly demanding CEO and a client of Rackspace who had nothing but praise for the apology letter and how the issue was handled even though his business suffered as a result.
---
Dear Eric,
It has been a long day and hard day here at Rackspace. We know it's been a long day for you. We are deeply sorry for the events that have taken place at our Dallas/Fort Worth data center. Your satisfaction is what every Racker works towards every day, especially today.
To those affected by the outage, I apologize. We all apologize.
We understand the frustration and uncertainty you have gone through. We take full responsibility for what happened and we will work with you to reach a remedy that satisfies you.
We have made the latest status update to the myrackspace.com customer portal. Please continue to visit it regularly for our most recent updates.
As always, your Account Manager and Support Team are available to help in any way. Likewise, please feel free to contact me if you have any questions or needs.
Sincerely,
Lanham Napier
CEO
Rackspace
(210)###-####
---
Case Study: Rackspace Customer Service
The apology letter is clear, concise, and 'perfect' for the same reasons as Neeleman's JetBlue apology.
As mentioned in the email, customers were able to log in to their accounts during the whole incident (and the days following) to view status updates and what measures were being taken now and for the future.
Their customers understood the company had a crisis on its hands, Eric the CEO who sent us the letter (and his colleagues who also used their services) knew it too and were suffering financially as a result, but they all agreed that Napier was handling the situation admirably and couldn't ask for more in terms of customer service.
In business, sometimes things happen that can't be helped and where nobody is at fault. What makes an individual or company truly stand out is how they handle crisis and the type of service they provide to customers during and after the crisis is over.
Open analysis of any weaknesses in their system were disclosed along with the conclusions of the various reports provided to Napier by his team.
Here's a small sampling of the type of customer service they offered and the information provided:
I've asked the team to compile and provide answers to the most frequent and pressing questions on our customers' minds. This is where we stand right now. More, importantly, this is where our customers stand.Lanham Napier
How Can a Truck Cause A Partial Data Center Outage?
I understand how there can be confusion about this matter, but the truck knocking out the power transformer was not the cause. The truck was only the catalyst for a string of events.
Ultimately, what caused the outage was the utility company cutting their power to the data center at an inopportune time for us, but an opportune and necessary time for the emergency response teams to safely rescue the accident victim.
Without notifying us the utility providers cut power, and at that exact moment we were 15 minutes into cycling up the data center's chillers. Our back up generators kicked in instantaneously, but the transfer to backup power triggered the chillers to stop cycling and then to begin cycling back up again—a process that would take on average 30 minutes.
Those additional 30 minutes without chillers meant temperatures would rise to levels that could irreparably damage customers' servers and devices.
We made the decision to gradually pull servers offline before that would happen. And I know we made the right decision, even if it was a hard one to make.
What Happened to the Redundancy in Your Data Center?
The critical systems are redundant at the data center. In fact we have utility and generator power sources for our DFW facility and these systems are routinely tested and maintained.
When the traffic accident took out the primary utility power source, our initial fail-over to generator power worked seamlessly and resulted in no service interruption for customers.
It was only after the switch back to the secondary utility power source that an unexpected series of events, unrelated to redundancy, resulted in outages.
What Are You Doing to Address The Root Cause?
To be honest, our Data Center Engineers and our top-tier providers are still devising an action plan and working on a permanent solution.
After initial investigations, we have a good idea what exactly needs to be done. Now we are working on developing the plans to get it done quickly, but properly. As soon as we know more, we will share the information with you.
I know these are answers to only a few of the countless questions out there. I wanted to make sure you have the most accurate answers to these pressing questions—not word of mouth or gossip—but directly from Rackspace and me.
Your Account Managers, your Support Teams and the Rackspace customer portal will continue to update you with the latest information. I will continue posting as long as I have important news to share with you.Lanham Napier, President & CEO and The Rackspace Team
Key Takeaway From This Case Study in Customer Service
Customer service is about taking responsibility and treating existing and future customers as you would like to be treated.
When people feel like they are dealt with fairly, they forgive just about any mistake and more often than not, you end up with a more loyal customer.
In another real world case study on examples of good customer service we see how one expert solicits company mistakes and actively seeks out reasons to apologize in order to improve customer retention and loyalty.