The Perfect Business Apology Revisited
The legal implication of any business apology (even perfect business apologies) depends entirely on the details of the cases in question, but there are several important caveats that should be considered before moving forward.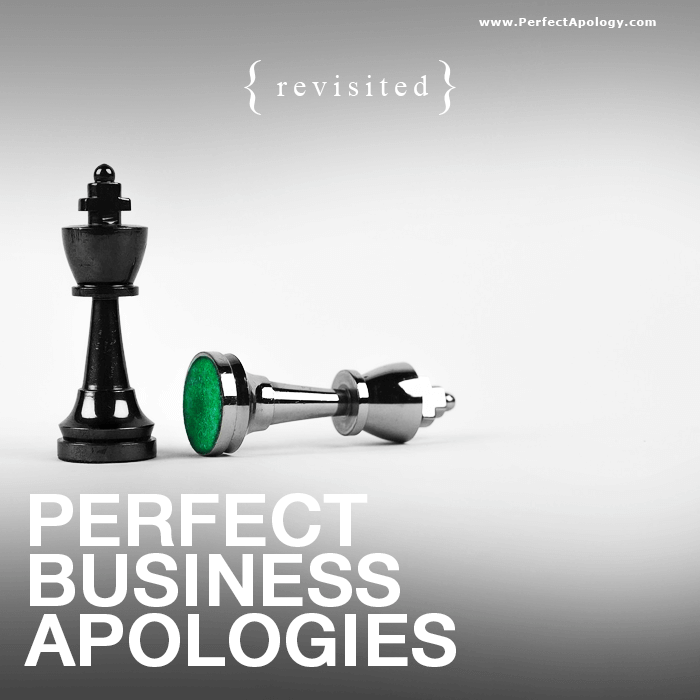 The most challenging part of selecting the right strategy is how to balance probabilities: the probability that the apology will avoid a law suit (and improve the relationship with the client) versus the probability that it might lead to one.
Keeping track of whether your clients fall into the potentially litigious category is never easy.
In most cases an effective and well timed apology often enhances the relationship with a client, but even perfect business apologies can occasionally backfire—most often in situations in which a company representative apologizes for failing to meet a contractual obligation.
Does I'm Sorry Mean I'm Guilty in Business?
Some U.S. states, as this INC. Magazine article points out, can treat 'I'm sorry' as 'I'm guilty'.
The first piece of advice in potentially serious cases, then, is to always speak to an attorney.
With respect to variations on the apology-lawsuit theme, consider the following two recommendations included in the INC. Magazine article:
First, apologies can, on occasion, be considered an admission of guilt, so be very careful if this is a serious consideration in your case.
Second, phrase your apology in the context of being sympathetic as in "I'm sorry you were hurt" rather than taking responsibility "I'm sorry that I hurt you".
On the flip side, this Globe and Mail article points out that the best legal advice can often be an apology.
Of course, a significant majority of typical business cases and related business apologies are not ones in which litigation is a serious concern. And in most of these cases the observations, strategies and recommendations outlined here are perfectly appropriate.
Business Apologies Can Be Good For Business
Back in 2009, The Nottingham School of Economics performed a study on customer forgiveness.
They compared the reaction of customers who received an apology, to those that received some form of monetary compensation for poor service.
Almost double the amount of customers who received an apology (as opposed to those that received only compensation) were willing to forgive the company and change any negative feelings they had towards the organization.
A Proactive Approach Can Lead To Business Success
We at PerfectApology.com remain convinced that a proactive approach to business apologies will usually produce better results.
We are not alone in our thinking.
Here's a great article from INC. that illustrates the importance of mastering the art of apologizing in business.
Still not convinced?
David Neeleman the former CEO of JetBlue Airways seemed to agree when an unfortunate turn of events put his airline in the doghouse. He turned a disastrous situation into a marketing opportunity by having extended what we consider to be, the perfect business apology.
JetBlue isn't the only company to have turned things around after a disastrous business decision or an unexpected crisis.
Johnson & Johnson's CEO James Burke was also successful when issuing a business apology following the cyanide-laced Tylenol capsules crisis.
And again years later, J & J's Canadian Division succeeded again by offering an incredibly creative apology after they decided to discontinue the o.b.® Ultra brand of tampons and faced intense international customer backlash (watch the video apology).
Understanding the legal implications is critical in business, so take the time (but not too much time) to evaluate the situation prior to deciding what route to take and apologizing.
And, when it comes to serious infractions, always consult an attorney before taking action.