How To Write A Customer Apology Letter
The perfect customer apology letter can do more than just mend fences; it can also deliver a more loyal customer.
Apologizing in business in the right way and at the right time can turn a negative into a positive by providing a better customer experience.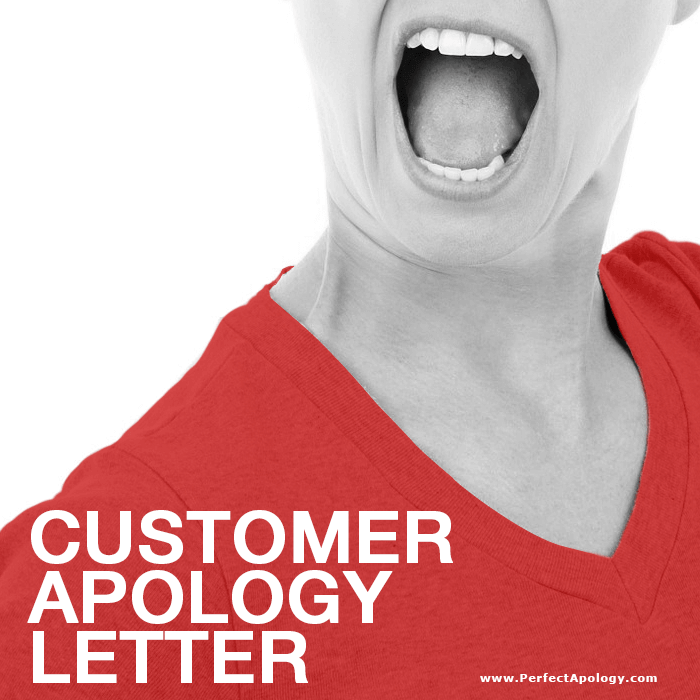 Yes, your company can be better off AFTER a mistake is made than you were before the error was committed.
An Effective Customer Apology Letter Will:
1. Acknowledge your company's responsibility in the matter.
2. Exhibit your desire (through action) to repair the damage done.
3. Demonstrate your company's integrity.
4. Tell customers that you value their business.
5. Solidify your relationship with customers.
A Customer Service Complaint Scenario
In this first sample letter below, there is an issue regarding a billing error to a customer.
The customer notifies the company of the problem. The problem is investigated and the company is found to be at fault and needs to apologize.
They can deliver a business apology by phone, in person, by email or letter. But, more importantly they need to make things right while building on their existing relationship.
So how do they make sure that the customer feels valued and that the issue is being taken seriously?
The Two-Tiered Approach to Customer Apologies
1. The first outreach is for a customer service representative to call the customer to advise them of their findings as soon as possible. An apology will be issued during the call for both the error and for the inconvenience.
2. Then follow up with a letter of apology to the customer to demonstrate the company's commitment to making things right and to emphasize how seriously they take the matter and how much they value the relationship.
What should that customer apology letter say?
Sample Customer Apology Letter
Dear [Customer Name]
Please accept my sincere apology. We are very sorry to have charged you twice for the same product.
It was clearly a mistake at our end and not one that we take lightly. We can certainly appreciate your shock when seeing double the amount expected on your credit card statement.
NOTE: If the dollar amount was significant then it would be appropriate to include a statement regarding the implications on available credit. The sentence would then read as follows...

"We can appreciate the shock you must have felt at seeing double the amount you expected charged to your credit card, and the possible implications of our error on your remaining available credit with your financial institution".
I understand from my staff that the error was due to a computer glitch in our automated billing system.
As a result of this issue and to prevent this from happening again, I have directed my staff to put new procedures in place that will specifically prevent similar future occurrences.
In the meantime, we have credited your account the appropriate amount.
(...include the specific dollar value and add a percentage to cover possible interest charges and inconvenience if the dollar amount was large...).
We hope that this will be sufficient to correct the error and address any inconvenience this may have caused you.
We thank you for bringing this to our attention. It will help me to improve our operations and services. I very much appreciate your business and hope that you will remain a valued customer.
If there are any other issues that need to be addressed, please don't hesitate to contact me directly.
Sincerely,
John Doe
President
Benefits of This Well-Crafted Customer Apology Letter
What's the end result? How does the recipient feel after receiving this type of customer apology letter?
They're happy to have the issue resolved and will appreciate the fact that the company took responsibility, acknowledged the error, made no excuses, and understood the hurt it caused.
The initial verbal apology by a customer service representative satisfies the customer's immediate need for resolution and de-escalates the situation.
But it's the formal letter of apology that solidifies the customer's relationship with the company and can potentially turn a negative situation into a positive.
Finally, there's an inherent element of importance brought to the issue, by a senior executive taking the time to apologize PERSONALLY and in writing while thanking them for bringing it to their attention.
If you're looking for samples to work with immediately, that cover various situations, we like these guys. They have sample apology letters in Word (and other formats) that are instantly downloadable and are reviewed by lawyers, which is always a plus.
You can also view our detailed template for a customer service apology letter from a CS Representative.
Proactive Approach to Customer Apologies
This next sample apology letter uses the same basic principles as the letter above although in this case, customers hadn't even complained.
It illustrates how a major airline took a negative situation and overall bad experience, and turned it into a positive one by being proactive and looking for reasons to build on existing relationships with customers.
What's particularly interesting about this letter is that it's sent out PRIOR to any complaints being received which not only helps retain customers but also builds on an existing loyalty program.
A true win/win for the company and a valuable lesson we can all learn.
Another Example Of A Customer Apology Letter
Dear [Customer Name]
I am writing in reference to Flight XA123 of December 15th 2019, on which you were scheduled to travel from New York to Los Angeles.
As you know, due to a mechanical problem with the aircraft scheduled to operate flight XA123, the flight was cancelled. We understand that these irregularities can be very disturbing for our customers, but our first priority must always be to provide you with safe travel.
Please accept our most sincere apologies for any disruption which our cancellation may have caused your schedule. We hope that the arrangements we made in providing you a seat on the next available flight were satisfactory.
On-time performance is critical for us and we truly regret that we were unable to provide you with the level of service we consistently strive to provide to each and every one of our customers.
As a member of our loyalty program, we would like to take this opportunity to provide your account with 5,000 complimentary points as a gesture of our concern for your inconvenience.
Our apologies, again, for your unfavorable experience. We hope to have the pleasure of welcoming you back on-board our airline sometime soon and replace any negative impressions with a more positive one.
Sincerely,
What's the end result? What does this type of proactive business apology do?
A token gesture (in this case loyalty points) when a complaint hasn't been made will go a long way in solidifying business relationships.
It shows the customer that the company is considering their point of view and acknowledging the inconvenience even though a complaint was never made.
The fact that the customer would never have questioned their decision not to fly for safety concerns, makes the letter all the more powerful.
We specifically chose this letter because it's a great example of how to pro-actively build on an existing relationship with customers.
There are hundreds of other situations where a customer apology letter may be appropriate—so don't avoid them, seek them out and USE them.
In business, we often pat ourselves on the back when mistakes happen and customers don't complain. The truth is, we may be making a bigger mistake by overlooking valuable opportunities to build our businesses.
Customer Apology Letters Build Loyalty
How will customers likely view these companies now, even though the situations that prompted the apology are very different? How have these customer apology letters built-on an existing relationship and effectively increased customer loyalty?
The customer's faith in both companies is likely restored, and perhaps even stronger than it was before.
Customers are able to put aside the issues and appreciate the fact that companies make mistakes (or have things happen to them) just like people do, and that should a problem arise in the future it will be quickly resolved by this particular organization.
The customer now feels IMPORTANT to the company and realizes that the company wants to hear both the good and the bad from them as a VALUABLE source of information for improving their services.
These types of letters to customers will help you retain your customer and may even improve the relationship that you have with them.
By creating a positive customer experience your apology and letter can potentially increase the loyalty a customer feels towards your company.
In the first example, we used a billing error, had the issue been poor service or any other type of business mistake, the basic principles and elements of the letter remain the same.
Be clear, take responsibility, appreciate the customer's point of view and inconvenience caused, provide some form of restitution if appropriate, and apologize.
Customer Apologies: Part of the Customer Experience
Offering customers an apology is not solely an exercise of customer service, it's an important part of the overall customer experience which is paramount for business success today.
The goal in creating a good customer experience is having customers not only like you but also advocate for you.
As consumers, we know that things can go wrong occasionally but providing an excellent customer experience can not only counter any issues that may arise but also presents an opportunity to offset any negative comments or reviews surrounding your product or business.
Here's a perfect example that happened just the other day.
I was looking for a single blow-up guest mattress on Amazon. I found one that had 4.4 stars and 185 reviews.
Although the majority of reviews were 4 stars or more, there were some between 1 and 3 stars that really stuck with me.
But then I noticed that more than a few reviews spoke about an amazing customer experience. Experiences so good, that the reviewers came back to update their original ratings:
REVIEW ★★★★
Update: I originally gave this product 2 stars, but the company really went out of its way to make things right for me after seeing my complaints over here. The bed I ordered was not comfortable, but, since people are always docking stars for crap customer service, I'll add a couple for good service.

Original review: The airbed inflates and deflates about as quickly as you could want. I just didn't find it super comfortable once I had it all set up.
REVIEW ★★★★★
Started leaking air after 1 month of use, horrible quality, avoid at all costs.

Update: Seller agreed to send me a new one for free, without even asking for the old one! The new one works like a charm. Good to know the manufacturer stands behind their product.
I ordered the mattress.
Why? Because those testimonials reassured me that if I had any issues with the product, I'd still have a great customer experience. That the company would take responsibility and make things right.
Research shows that an excellent customer experience (which will often include a customer apology letter when things go wrong) is more important to consumers today than the actual product or service being offered.
To further illustrate the point of the importance of a good customer experience, the company sent a personalized letter via email the day after I received the mattress.
Even with their lack of English communication skills, they managed to further alleviate any doubts I may have had about their product or company.
They built upon the reviews I highlight above and know that their future potential customers are reading them. They wrote:
Hope this email will not bother you.

This is Fiona, Your Air Mattress Support Representative...
Writing to present our grateful thanks to you for ordering our twin size air mattress.

We are wondering if you have got the chance to use it and is there any help we could provide? Please feel free to contact us via email if there is any issues on this product.

It would be appreciated if you can share your valued feedback about this product or use experience. Click Here to Leave a Review.

If you already left one, we want to present our big thanks!

Best wishes to you and your family!
This company clearly understands the importance of a good customer experience. With the internet, social media, and user reviews it's more important than ever to apologize effectively to customers when things go wrong and over-deliver on a satisfying user experience.
Important Take-Aways for Customer Apologies
Deal with the issue in a TIMELY manner.
Not responding quickly and decisively can end up requiring two apologies, one for the issue itself and the other for the time it took to respond—the timing issue compounds the 'negative' of the situation and can have more severe implications on your business than the original issue itself. It is critical to understand the importance of timing an apology correctly.
By having a principal in the company or other senior staff (as opposed to support staff) sign the apology letter, you send out the signal that they and the issue are important.
TIP: Save and categorize all of your business apology letters and modify them as necessary for each new incident. This ensures your customers will always receive a quick response because you won't need to spend time composing an apology letter from scratch each and every time.
What approach you use to deliver an apology can have significant impact on its effectiveness and overall customer experience.
Face-to-face, by phone, email or snail mail, learn best practices for delivering a business apology either verbally or through a customer apology letter and improve your bottom line for years to come.