The Greeting Card Apology
A greeting card is a great alternative to paper for extending a handwritten apology.
Cards have been around forever and their use dates back to the ancient Chinese and early Egyptians and are among the easiest ways of expressing sentiments, best wishes and, of course, apologies.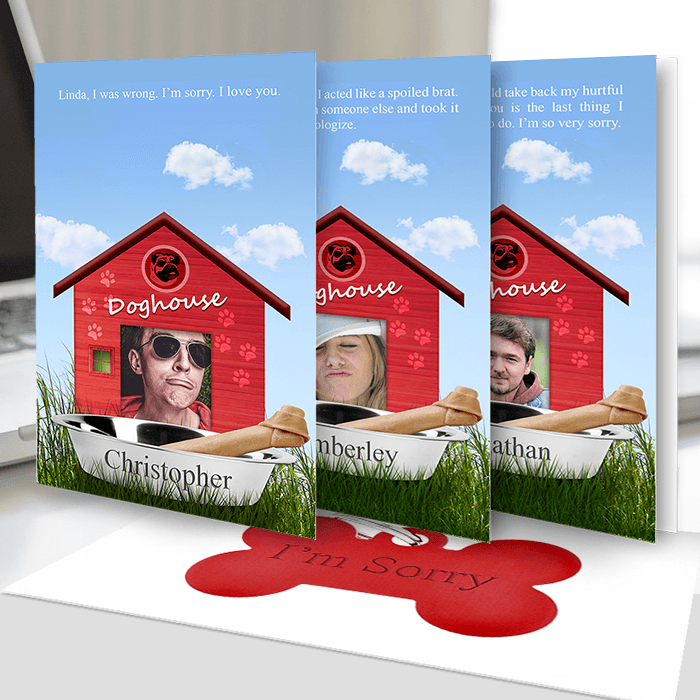 Because the card itself is an unnecessary gesture, they bring more meaning to your sentiment and your apology. And, unlike ordinary paper are traditionally used to express important feelings or mark special occasions.
Today, with modern technology and the pervasiveness of social media and how much we use it to communicate, a physical card becomes all the more special.
Having said that, an e-card or simple 'sorry image' (or meme) can also be a useful tool when it comes to apologizing. Saying sorry with a written heartfelt sentiment or an image as part of a Facebook wall comment or post, can let the injured party know that you are taking responsibility for your actions in front of your friends and peers.
Benefits Of Greeting Card Apologies
1 | They add a personal touch and show that you care.
2 | They show the recipient that you made an extra effort in personally selecting an appropriate card as opposed to just grabbing the closest sheet of paper or firing off an email.
3 | They're perceived as a mini apology gift and something that can become a keepsake and mark a special moment.
4 | They're ideal for all age groups and personality types because they're available in so many styles, themes and designs.
5 | They're a great way to remind a person of the relationship you share and their pre-written sentiments often help us transform our emotions into words.

It doesn't take a great deal of time and effort to send someone a note via email, so receiving a card is more likely to be viewed as special by the recipient. However, to get a greeting card to work for you and help to convey a sincere and heartfelt apology, it's important to show the recipient that some real effort was made in selecting the appropriate card.
Things to keep in mind when choosing a card:
1 | Choose a card with relevant imagery that somehow relates to you, the recipient, your relationship or the situation.
2 | If the card has a pre-written sentiment, make sure that it's appropriate and not too long, wordy or sappy. A card that is too sappy can sometimes make your apology seem a little insincere. You'll need space to add your own personal apology for the card to be effective. If you can't find the right sentiment then go with a card that is blank on the inside.
3 | Don't select a greeting card for the wrong reasons. In other words, don't choose a card based on price or because it's available. Choose it because it's right for you and the recipient. A thoughtless choice of cards is not worth the effort and probably won't get you very far.

It's important to remember that most people enjoy receiving a card. It could have something to do with how they remind us of good times and special occasions, or the fact that they help to connect us emotionally to friends and family. Either way, offering a greeting card as a token gesture along with an apology can make a big difference in how your apology is received.
Learn about other ways to say sorry and apologize or check out some of the clever ideas submitted by our readers.