I'm Sorry Quotes
I'm sorry quotes can help enhance an apology by emphasizing an important point that you're trying to make while saying you're sorry.
Maybe you find it hard to apologize to your boyfriend or girlfriend, or just can't put into words what you really want to say. These quotes will help. They cover the more common approaches a sincere apology should take.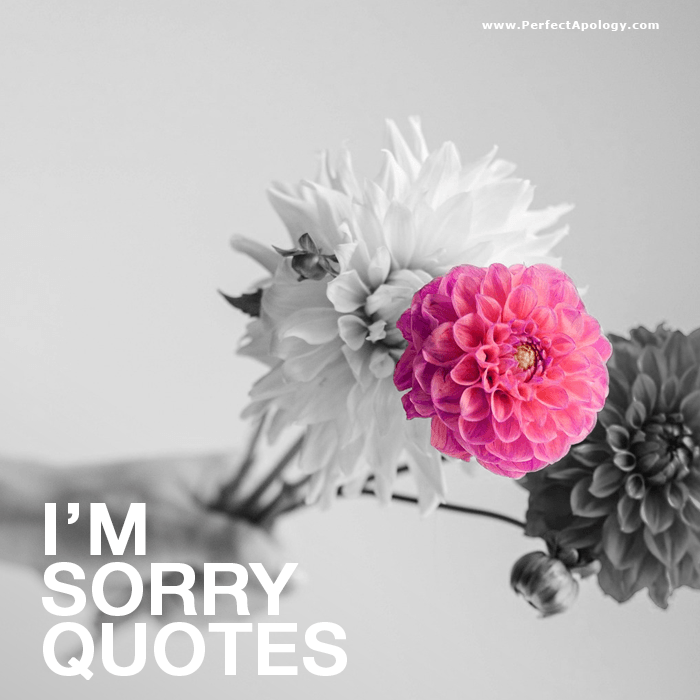 A perfect apology always requires that the majority of it be in your own words and tailored to the recipient and the situation.
Using quotes in apologies, whether they be verbal or written, should help convey a single idea or concept—making the apology more profound or heartfelt.
They will enhance your apology and show the recipient that you have given a great deal of thought to the situation by taking the time to find a suitable quote that expresses your sentiments or how you feel about the situation.
I'm Sorry Quotes for Him, Her & Personal Relationships
Apologizing and saying sorry is a part of every healthy relationship. We're human, we make mistakes, even in our closest relationships.
All relationships go through bad times, but real relationships get through bad times. Anurag Prakash Ray
A quote like,
A bend in the road is not the end of the road... unless you fail to make the turn. Unknown Author
will help the recipient understand, especially when it comes to love, that you're sorry, that your apology comes from the heart, and want to move forward. And, that whatever happened doesn't change things, it's just a slight detour.
If you're looking to have an open discussion, or are getting the silent treatment from the person you hurt then add this quote to your apology. It tells them that your relationship is too important to not talk things over and that you want to talk things through.
Anger ventilated often hurries toward forgiveness; and concealed often hardens into revenge. Edward G. Bulwer-Lytton
If the hurt you caused was the result of your being insincere, presumptuous, or otherwise thoughtless (we're pretty sure these are most often used by guys) then these quotes may be suitable to your situation.
We are so accustomed to disguise ourselves to others that in the end we become disguised to ourselves. François Duc de La Rochefoucauld
Honesty is the fastest way to prevent a mistake from turning into a failure. James Altucher
It takes courage to grow up and become who you really are. e.e. cummings
We don't receive wisdom; we must discover it for ourselves after a journey that no one can take for us or spare us. Marcel Proust
Not admitting a mistake is a bigger mistake. Robert Half
Sometimes people mistake the way I talk for what I am thinking. Idi Amin
And if you've acted like a fool and are feeling ashamed, then use this quote by Shakespeare to convey how sorry you are and that you're aware of your poor behavior.
The fool doth think he is wise, but the wise man knows himself to be a fool. William Shakespeare
I'm Sorry Love Quotes
The classic film 'Love Story' is famous for the quote "love means never having to say you're sorry". Wrong!
Apologizing to someone you love is a part of loving them and our dozens of pages of apology love letters, apology letters to girlfriends and boyfriends is all the proof you need.
Love in the real world means saying you're sorry 10 times a day. Kathie Lee Gifford
There is only one happiness in this life, to love and be loved. George Sand
There is no love without forgiveness, and there is no forgiveness without love. Bryant H. McGill
I believe forgiveness is the best form of love in any relationship. It takes a strong person to say they're sorry and an even stronger person to forgive. Yolanda Hadid
The beginning of love is to let those we love be perfectly themselves, and not to twist them to fit our own image. Otherwise we love only the reflection of ourselves we find in them. Thomas Merton
I love you, and because I love you, I would sooner have you hate me for telling you the truth than adore me for telling you lies. Pietro Aretino
Some think love can be measured by the amount of butterflies in their tummy. Others think love can be measured in bunches of flowers, or by using the words 'for ever.' But love can only truly be measured by actions. It can be a small thing, such as peeling an orange for a person you love because you know they don't like doing it. Marian Keyes
If you want a love message to be heard, it has got to be sent out. To keep a lamp burning, we have to keep putting oil in it. Mother Teresa
We must develop and maintain the capacity to forgive. He who is devoid of the power to forgive is devoid of the power to love. There is some good in the worst of us and some evil in the best of us. When we discover this, we are less prone to hate our enemies. Martin Luther King, Jr.
Forgiveness is not always easy. At times, it feels more painful than the wound we suffered, to forgive the one that inflicted it. And yet, there is no peace without forgiveness. Marianne Williamson
People who truly love us can be divided into two categories: those who understand us, and those who forgive us our worst sins. Rarely do you find someone capable of both. Jonathan Carroll
I'm Sorry Quotes When Trust is at Stake
Trust is often an issue when we make mistakes. Forgiveness is also often dependent on trust. So think about adding something to your apology that explains the importance and risks involved in trusting someone instead of using a typical sorry quote.
To be trusted is a greater compliment than to be loved. George MacDonald
Loyalty and devotion lead to bravery. Bravery leads to the spirit of self-sacrifice. The spirit of self-sacrifice creates trust in the power of love. Morihei Ueshiba
He who does not trust enough, Will not be trusted. Lao Tzu
Mature love is composed and sustaining; a celebration of commitment, companionship, and trust. H. Jackson Brown, Jr.
When the people we love stop paying attention, trust begins to slip away and hurt starts seeping in. Brene Brown
Love all, trust a few, do wrong to none. William Shakespeare
A lie can travel half way around the world while the truth is putting on its shoes. Charles Spurgeon
A healthy relationship is built on unwavering trust. Beau Mirchoff
Trust is built with consistency. Lincoln Chafee
The only way to make a man trustworthy is to trust him. Henry Lewis Stimson
Mistrust makes life difficult. Trust makes it risky. Mason Cooley
Use I'm Sorry Quotes to Enhance Your Apology
Use quotations to support your apology, what you're thinking, or what you have to say.
Stay away from quotes that apologize for someone else's mistake and are appropriate to someone else's situation. Quotes can be an effective tool for saying sorry but make sure that you use them wisely.
And when it comes to love...
If you love and get hurt, love more.
If you love more and hurt more, love even more.
If you love even more and get hurt even more, love some more until it hurts no more... William Shakespeare
See our list of quotes on being sorry and our collection on forgiveness.