A Sample Business Apology Letter
This sample business apology letter shows how a major airline takes a negative situation and bad experience and turns it into a positive one, by being proactive and looking for reasons to build on existing relationships with customers.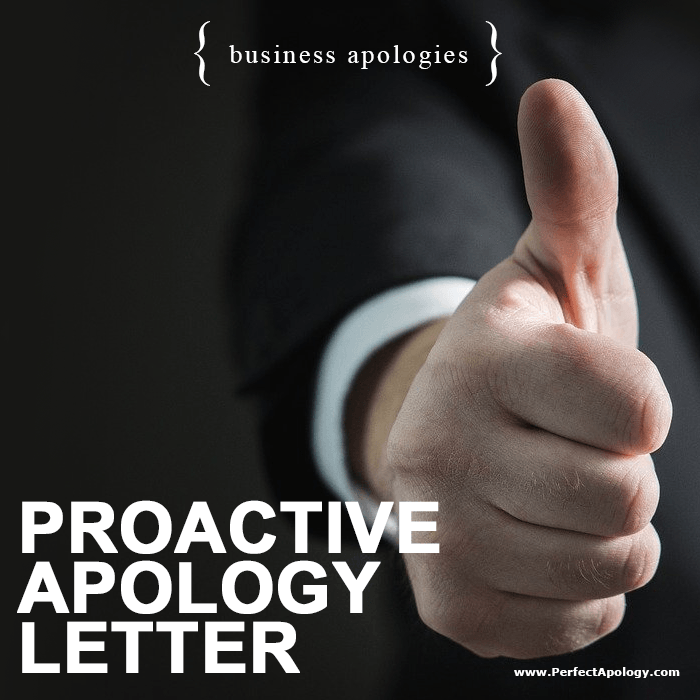 What's particularly interesting about this letter is that it's sent out PRIOR to any complaints being received which not only helps retain customers but also builds on an existing loyalty program.
A true win/win for the company and a valuable lesson we can all learn.
---
Dear [Customer Name]
I am writing in reference to Flight XA123 of December 15th 2014, on which you were scheduled to travel from New York to Los Angeles.
As you know, due to a mechanical problem with the aircraft scheduled to operate flight XA123, the flight was cancelled. We understand that these irregularities can be very disturbing for our customers, but our first priority must always be to provide you with safe travel.
Please accept our most sincere apologies for any disruption which our cancellation may have caused your schedule. We hope that the arrangements we made in providing you a seat on the next available flight were satisfactory.
On-time performance is critical for us and we truly regret that we were unable to provide you with the level of service we consistently strive to provide to each and every one of our customers.
As a member of our loyalty program, we would like to take this opportunity to provide your account with 5,000 complimentary points as a gesture of our concern for your inconvenience.
Our apologies, again, for your unfavorable experience. We hope to have the pleasure of welcoming you back on-board our airline sometime soon and replace any negative impressions with a more positive one.
Sincerely,
---
What's the end result? What does this type of proactive business apology do?
A token gesture (in this case loyalty points) when a complaint hasn't been made will go a long way in solidifying business relationships.
It shows the customer that the company is considering their point of view and acknowledging the inconvenience even though a complaint was never made. The fact that the customer would never have questioned their decision not to fly for safety concerns, makes the letter all the more powerful.
We specifically chose this letter as a sample business apology because it can easily be tailored to your business and is a great example of how to pro-actively build on an existing relationships with customers.
There are hundreds of other situations where a business apology may be appropriate—so don't avoid them, seek them out and USE them.
In business, we often pat ourselves on the back when mistakes happen and customers don't complain. The truth is, we may be making a bigger mistake by overlooking valuable opportunities to build our businesses.
Has a complaint already been made? See another sample business apology that illustrates how to address the issue after the fact.