The Apology Message Board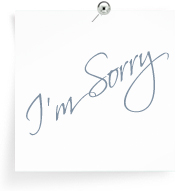 The Apology Board is a listing of sorry messages sent in by our readers. Some are profound and truly heartfelt while others are simply expressions of regret.
By posting a message about how sorry you are to a place where others have shared their remorse, reminds us all that we're human and we all make mistakes. Posting an apology for the world to see won't undo the wrong but it can make us feel better by sharing our thoughts and feelings with others who find themselves in similar situations.
Need to say sorry for something you've done? Then... Post your own message to the apology board!
Navigate through the Message Board by clicking on the page numbers below. The higher the number, the more recent the page.
Posted by Josh D.
Dear Garrett, I was completely wrong for yelling at you when you were talking to your friends. The truth is I was extremely tired and not feeling great so probably yelling at you was a reaction to myself feeling tired plus feeling neglected. When I agree to hang out with friends, I don't expect the friend to talk to the outside world. I want all of the attention focused on me. I should have been patient and waited for you to be finished. Can we regroup soon. I really wanna try to make up and not be like Sebastien anymore. I really like you and I hope we can try to make our friendship better. See you soon. -Josh
Posted by Anonymous
Regarding my bad behavior in Lawrence, Kansas. This is a genuine apology to a gentleman who scolded my bad behavior, but I was young, immature and snotty.
We were strangers. It was approximately 1990. I was 20 years old, and a young lady. You may have been 30-something, perhaps a father? Perhaps a Christian? One morning, we were driving South on Michigan Street, just past a small school. I passed you, and at the stop light at the intersection of Michigan Street and 6th Street, you got out of your car to scold me, saying: "This is a school zone!" I mouthed off about "always doing that".
However, I have felt ashamed of my poor attitude all of these years (it took many years to recognize this). I did not know who you were, and when I found this "Apology" forum, I decided to put this apology "out there" in case you see it. I am a born again Christian and I have prayed about my bad behavior. I pray that you read this...And that you recognize yourself and can forgive me.
Posted by Lou
Leigh, I'm So Sorry! I know that I lied to you and that it wasn't the first time. I am truly, deeply sorry. I SWEAR I will not lie to you again. I will be truthful, no matter what. And I will NOT smoke again, EVER. You are so very important to me. I love you more than you will ever know.
Posted by Becky
Alex, I'm sorry. I've had a hard time with the changes over the last few months, and I haven't known how to deal with them. I realize now, that what I should've done, is just keep the focus on my own self- drive in my own lane, as they say, and certainly not in your back seat.
I am so sorry for all of the silent, pouty faces, and for the sideways remarks in front of your friends, and for the nagging. I never wanted to make you feel unloved or disapproved of. I wish I'd had more control over myself, and been the loving girlfriend you deserve, then maybe just a few words would've had more weight.
You're an amazing, smart, beautiful man, and I see such a bright future for you. I will miss seeing myself in it. I trust you to look after yourself, and that you'll pull in the reigns when you need to. I promise you won't have to hear me lecture or nag about it, again, even if it's only because we are no longer together. I'll miss the way we meld- you and I together was amazing. I love you more than you know, and will miss making you sandwiches- even though I've only made a few.
Posted by D.J.
I don't even know where to start... I know I've hurt you numerous times and I know it feels as if I do not respect, love or care for you. You are my everything, my heart and for what I've done in the past, I'm genuinely sorry. You are my other half, you complete me and without you here by my side, I feel incomplete... I don't feel whole. On this day, I vow to never disrespect you. I vow to love you with every ounce of me. I vow to care for you through my actions. I vow to stop everything I said I would stop.
I know what it feels like to not have you here.. and I can't live that way. I'm so sorry for everything... for all of the pain I've caused you, for making you doubt me. I will do everything in my power to earn your trust back. I love you, with everything in me. Please forgive me...
Navigate through the Message Board by clicking on the page numbers below. The higher the number, the more recent the page.